"The Lord bless you and keep you; The Lord make His face to shine upon you and be gracious unto you; The Lord lift up His countenance upon you and give you peace."
Numbers 6:24-26
FAST FORWARD RE-MAIL offers the following Services to our customers
FAST FORWARD will . . .
…Provide "SAME DAY" Mailing(when notified by Noon EST)at no additional charge.
…mail ALL MAIL of ANY Class.
…SORT and DISCARD obvious junk mail at your option.
…HOLD/STORE magazines for future mailing.
…hold member mail up to six months address at no additional charge until you notify us of your next mailing.
…provide UPS, Overnight Express, Federal Express, Certified/Registered Mail receipt, and International Mail Service.
… send a "NO MAIL TODAY" card on your regular mailing day…at your option.
…meter all mail for speedier handling.
…re-mail with our Local postmark, any mail you wish to send us for that purpose at cost.
… work with you on an individual basis if you have a special need or concern.
You may SIGN UP NOW and indicate the DATE you wish for your service to begin. We can reserve your address for up to six months.
---
FAST FORWARD provides . . .
…a STREET ADDRESS for vehicle registration and voting.
…a TOLL-FREE number for the use of members/family. We will take/relay messages for a nominal fee.
…service with NO CHARGE to call in with address changes.
….check your box on request and relay information concerning contents at nominal cost.
… an OPTIONAL Message service
---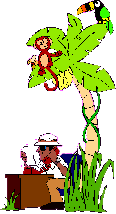 BUSINESS OR PLEASURE?
We know that it's a jungle out there.FAST FORWARD makes it easier for you to travel and still communicate with the world. Whether for one week or endless summers - We promise to keep you in touch.
Since 1988 we have served thousands of members providing them with that "extra touch" that makes your life more enjoyable.
CUSTOMER COMMENTS…….
" I am so very pleased with your excellent service! We are recommending you to everyone we meet." A.P.
"You do such a great job and we truly appreciate your courtesy, cooperation and you are so friendly and nice." S.G.
"Many thanks for your fine service." W.C.
---
MAILING TIPS
The Post office DOES NOT Guarantee delivery times of First Class or Priority Mail.
Allow 5-7 days for First Class Mail Delivery.
Allow 3-5 days for Prioity Mail Delivery.
General Delivery should be held up to 30 days by the Post Office.
Postal machines scan addresses from bottom to top, right to left.
Metered Mail speeds through several sorting steps.